Written by Paul D. Batteiger
Sunday, 31 July 2016 22:12
Chapter 1 is up!  Off we go!

Written by Paul D. Batteiger
Saturday, 30 July 2016 12:04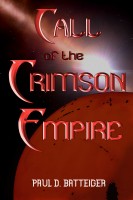 The ebook is here!  If you contributed to the campaign, you should have the code for your copy in your email right now!  Otherwise, head on over and buy a copy!  And remember: reviews are the lifeblood of the author!

Written by Paul D. Batteiger
Thursday, 21 July 2016 21:22
Aaaand that is the final bonus scene.  I hope you all have enjoyed Call of the Crimson Empire.  I will have the ebook out sometime this next week, so keep your eyes peeled :)